Fear and Anxiety Are in the Collective
Fear and anxiety may seem to be in the very air we breathe right now and understandably so. There are concrete things we can do to limit our own vulnerability as well as help protect others and slow down the spread of the pandemic.
Thankfully the airwaves have been filled with those recommendations. There are also recommendations about how to use food, supplements, fresh air and exercise to help boost our immunity. But what about the fear and anxiety that lurks in the corners?

Uncertainty is Fertile Ground for Stress, Fear and Anxiety
What about that in the moment fear and anxiety that grips us out of nowhere? What about the tension that keeps us awake at night? What about that unconscious baseline of stress that interferes with our ability to function well? This is where understanding our energy and nervous systems and how to engage them effectively can really help. Once we have a means to calm ourselves, to bring our physiology back into balance we are much better able to maintain emotional equilibrium, mental focus and capacity to choose well.
Root Chakra and Grounded Energy
The root chakra is associated with the earth element and magnetic energy. Its health determines feelings around fear, safety and belonging.  When we are connected to healthy earthy frequencies and have an optimal amount and free flow we feel safe, steady…grounded. A strong root chakra allows for upward movement of healthy energy to the other chakras.
Grounded Energy: Foundation of Stability
The term Grounded describes energy that is steady, stable and produces feelings of security. Grounding describes the process used to achieve this type of energy and experience a calmer, centered presence and ability to focus.
Grounding provides a strong foundation for well-being.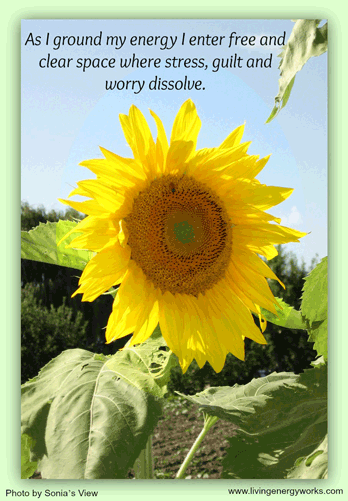 Research and Grounded Energy
In a study done in a Mu room (a room where you can control the electromagnetic energies) by Dr. Valerie Hunt at UCLA, it was found that when the magnetism of the room was decreased, subjects became neurologically impaired. They could not balance or perform simple physical maneuvers. Predictably, when the magnetic energy was increased, the subjects' physical functions improved. Dr. Hunt found that, the greater the concentration of magnetism, the greater the improvement in coordination and movement.
The Root Chakra and its energy is the foundation of our physical and psychological well-being so it is an important area to attend to when dealing with stress, change or wishing to bring positive change into your life.
Strong, stable grounded energy facilitates the release of old, stuck or toxic energy as well as contributes to our physical, mental and emotional health.
Strategies to Balance Root Chakra
If you do not know if you have excessive or deficient root chakra energy, you can download the chakra assessment on the homepage of this website.
Excessive Energy: yoga child pose, swimming, dancing, knee bends, moving meditations, massage, visualization to decrease "charge," cedarwood or lavender fragrance
Deficient Energy: foot massage, massage; yoga poses- elephant, bridge, and boat; boundary exercises
It is easy to forget in a moment of stress that we do have personal resources we can tap and build on to help ourselves. I forget all the time! Grounding has helped me immensely in building and internal balance point to respond to life VS reacting to it. Please feel free to reach out with any questions you may have.