Grounded Energy: Foundation of Stability
The term Grounded describes energy that is steady, stable and produces feelings of security. Grounding describes the process used to achieve this type of energy and experience a calmer, centered presence and ability to focus.
Grounding is part of a strong foundation for physical and emotional well-being and a desirable prerequisite for other energy work. Most people can benefit from additional grounding practice!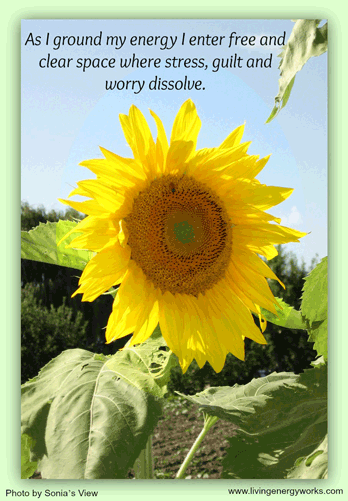 Root Chakra and Grounded Energy
The root chakra is associated with the earth element and magnetic energy. Its health determines feelings around fear, safety and belonging.  When we are connected to healthy earthy frequencies and have an optimal amount and free flow we feel safe, steady…grounded. A strong root chakra allows for upward movement of healthy energy to the other chakras.
In a study done in a Mu room (a room where you can control the electromagnetic energies) by Dr. Valerie Hunt at UCLA, it was found that when the magnetism of the room was decreased, subjects became neurologically impaired. They could not balance or perform simple physical maneuvers. Predictably, when the magnetic energy was increased, the subjects' physical functions improved. Dr. Hunt found that, the greater the concentration of magnetism, the greater the improvement in coordination and movement.
The Root Chakra and its energy is the foundation of our physical and psychological well-being so it is an important area to attend to when wishing to bring positive change of any kind to your life. Strong, stable grounded energy allows an easier release of old, stuck or toxic energy as well as contributing to our physical, mental and emotional health.
Related articles
Save